Hyper Sexy Heroine Special Detective Spiritual Ninja Hikaru

Product No.

CGAD-25

Actress

Director

Time

83 min | making 15 min

Release Date

2009/01/23

Series

Charactor

* We are stopping Distribution of Sample Movie. Restart schedule is undecided. We would appreciate your understanding in this matter.
▲close
In a war-torn era, there were two ninja families that were appointed to responsible positions by Shogun. One was Mikumo-ryu that controlled spiritual ninja arts as "spirit guard" and the other Mugen-ryu that controlled poisons of the world as "poison guard". However, Mugen-ryu was wiped out by the Shogunate after falling under suspicion that they were anti-Shogunate... And in the present world, Hikaru Mikumo, a girl who has solved many difficult cases commissioned by International Security Apparatus, acts as a female ninja that inherits the blood of Mikumo-ryu. Having requested by an investigator Yosuke, a childhood friend of Hikaru's, she begins investigation of the case on a serial murder of bacterial weapon developers. She gets to know that Mugen-ryu is pulling strings behind the scenes. In formal Mikumo attire, Hikaru goes into battle but Kaede, a descendant of Mugen, tricks her into defeat. Then Hikaru is subjected to a hellish torture by Kaede, who tries to seize the Mikumo's book of secrets and settle her ancestors' grudges. Will Hikaru, who is now poisoned all over the body, be able to find means of survival and save the book of secrets? The action play of the super sexy ninja unfolds!
▲close
Look at the costume by all means! Even with an armor on the upper body, the lower half is so erotic, it's a simple combination of fishnet tights worn with a scanty bikini and panties that eat into the flesh. And, Kaede,played by Chion, rips off the tights maddeningly and rubs poison into the bare buttocks shielded only with a thin cloth and on the uncovered breasts. Her acting and the sexy body actions of the star player Aoi are just exquisite. This series features erotic costumes, and this time we specifically highlight the lower half of her body with the underwear eating into the flesh. Besides that, she gulps the metal pipe clinched between her breasts, gets worms to creep on her skin, endures the big frog's tongue licking her and even swallows the whole bit. Aoi is such a character with guts, taking in just anything, that we tried everything on her. You'll enjoy watching cute and sexy Aoi as well as cool and dark Chion confronting each other.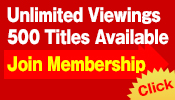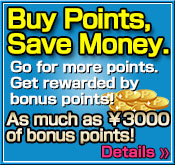 NOTICE:
Our website credit card payments can be processed in
USD
. The bank statement that you will receive will be considered as
USD
. The amount will be changed depending upon the exchange rate and charge of the bank. Thank you for understanding us